On Friday night a protest against migrants being housed in a hotel in Knowsley, Liverpool, turned violent and a police van was set on fire. The protest followed rumours of sexual harassment by someone alleged to be a resident at the hotel. Fascist party Patriotic Alternative (PA) claim to have distributed hundreds of leaflets about the hotel locally in the weeks prior to the protest, attempting to manufacture outrage and recruit to their cause. Early reports claimed PA were responsible for organising the protest but this is not the case. While PA activists were present, they are not capable of organising riots and have limited experience of public order situations. In fact, the protest appears to have initially been called by two local Instagram pages, not previously affiliated with the organised far right, with a combined audience of almost 50,000 followers on the platform.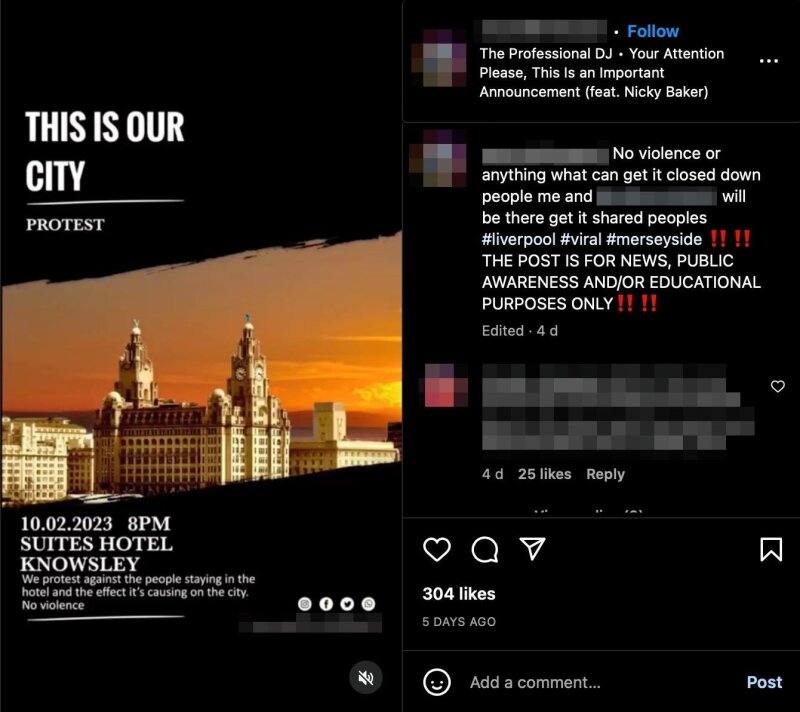 A call to protest from a local Instagram page
North West PA activist James Mac/Costello, who was close to banned neo-Nazi terrorist group National Action, was present at the protest. PA's North West region posted about the events on Telegram, claiming the violence showed 'the uprising is happening'. A video of a schoolgirl allegedly being approached for sex by a 25 year-old man two miles from the hotel went viral in the days leading up to the protest. The video was shared by a number of far-right activists with large social media followings including PA leader Mark Collett.
Events in Knowsley can only be attributed in part to the efforts of the organised far right. They also follow the localised rumours about sexual harassment and a concerted campaign by the political and media establishment to dehumanise and demonise asylum seekers.
---
If you have any additional information regarding our investigations or any other far-right organisers or activists, please reach out to us confidentially and securely via encrypted channels, using Signal at +447459331025 or via email at [email protected].
Your contributions are invaluable to us, and we sincerely appreciate your support.
---
Patriotic Alternative Knowsley, Liverpool
---