We can reveal that a Swindon Council employee has been leading a secret life as a neo-Nazi and recording songs expressing genocidal fantasies. Leon Mayer, of Swindon, Wiltshire, is a member of fascist party Patriotic Alternative (PA)'s South West region and a systems development officer for Swindon Borough Council.
Under his fascist pseudonym, "Kumquat Nationalist", Mayer has created and shared a litany of bizarre and offensive content, expressing abhorrent racist views. His YouTube channel featured a song titled "Day of the Rope", which he wrote and recorded, and, in which he fantasises about the murder of "race traitors".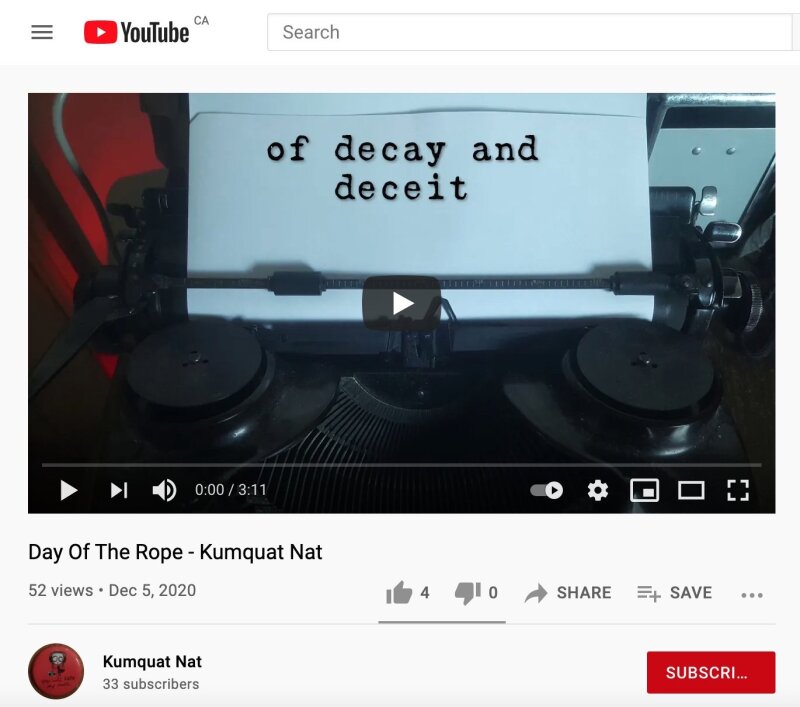 Mayer's now-deleted YouTube channel
"The Day of the Rope" is a neo-Nazi trope taken from The Turner Diaries, a notorious fictionalised account of white supremacist guerrilla warfare and revolution that has inspired far-right terrorist attacks including the Oklahoma City Bombing and the 1999 London nail-bombings. The term refers to the mass lynching of "race traitors" by white supremacist insurgents. Mayer's song includes the lyrics: "The tables are turning, the flames are burning as you hang from lamp posts, the day of the rope" / "no mercy for traitors" / "bodies… fill the street". The video recorded by Mayer features a copy of The Turner Diaries, and zooms in on the "day of the rope" passage from the book, which depicts a mass execution of people in interracial relationships. Mayer's YouTube channel also featured a song written as a cryptic ode to Hitler.
We identified Mayer with the help of leaks from the far-right social network Gab, published in February 2021. We then began monitoring his pseudonymous social media accounts and were able to photograph him attending multiple PA events.
---
If you have any additional information regarding our investigations or any other far-right organisers or activists, please reach out to us confidentially and securely via encrypted channels, using Signal at +447459331025 or via email at [email protected].
Your contributions are invaluable to us, and we sincerely appreciate your support.
---
Patriotic Alternative Swindon
---